ECO-FRIENDLY. HANDMADE. SMALLBATCH PRODUCTION
A print voyage - textiles that will take you on a timeless journey!
FEATURED PRODUCTS
Unique and elegant a collection of our Japanese tie dye hand-dyed scarf with natural indigos + olive + grey and rose tones. These are some our best selling one of a kind scarves. 

These scarves are easy to maintain and can be hand washed or machine washed on delicate cold cycle. The beauty about these scarves is that they go with every outfit and their soft cotton feel isn't itchy, or too hot on those chilly days. 
Time and time again we sell out of these scarves because each collection is made in small batches in our own factory. Try one as a shoulder wrap, around the neck with any jacket, or best when paired with plain jeans and a light sweater.
Regular price

$ 110.00 USD

Regular price

Sale price

$ 110.00 USD

Unit price

per

Regular price

$ 110.00 USD

Regular price

Sale price

$ 110.00 USD

Unit price

per

Regular price

$ 110.00 USD

Regular price

Sale price

$ 110.00 USD

Unit price

per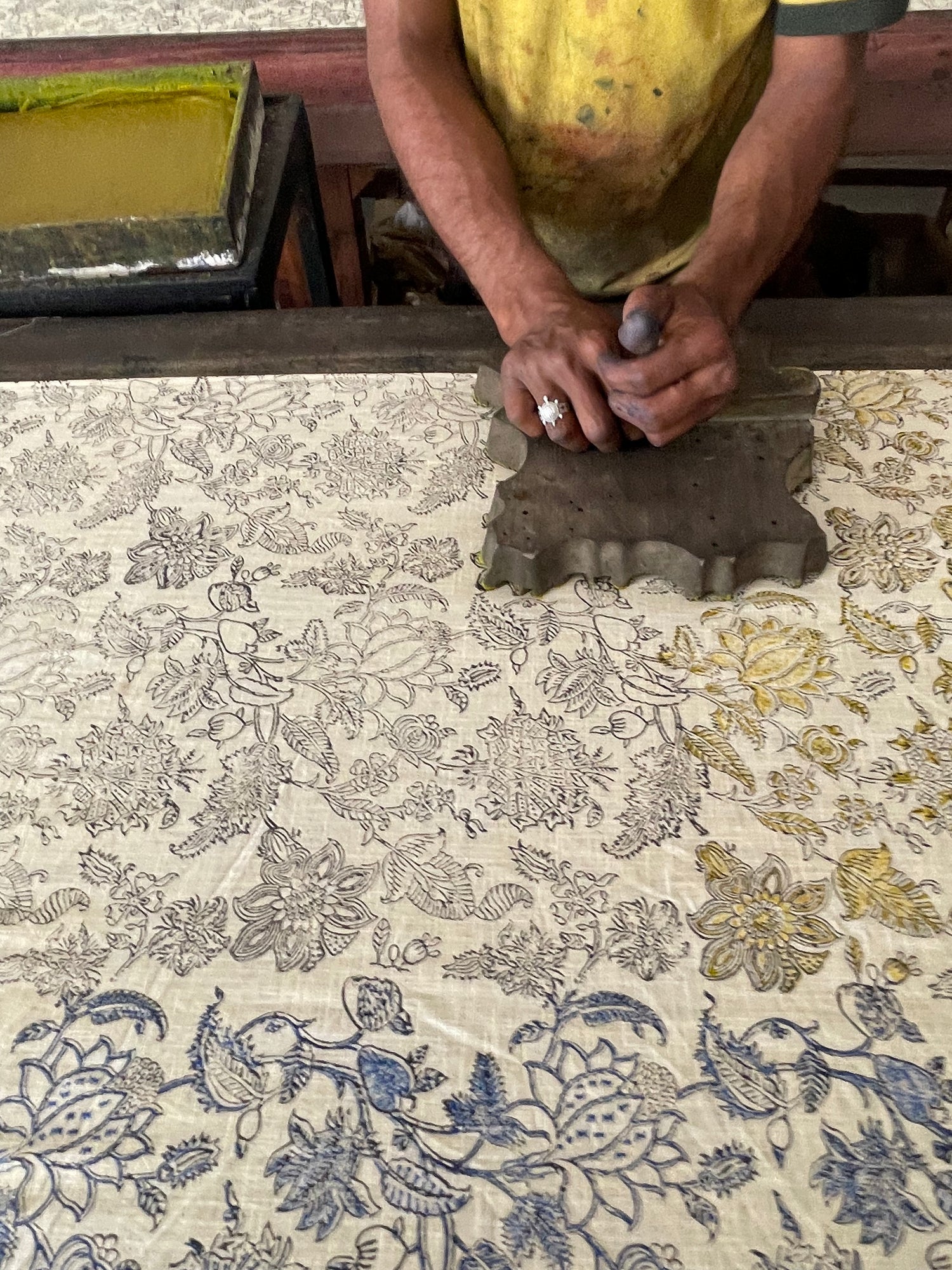 Who we are ...
Parekh Bugbee is a renowned textiles brand with a classic design sensibility that incorporates stylish new innovations. Crafted by expert artisans, its scarves, shawls and stoles use an ancient silk-screen printing technique on hot wax tables where each color is carefully layered on fabric. The slow and meticulous production process creates exceptional, wearable art of unparalleled beauty and quality.
How It All Started ( Our History )
Totes & Kitchen Linens
Regular price
$ 64.00 USD
Regular price
Sale price
$ 64.00 USD
Unit price
per
Juliet Lightweight Scarves

The Juliet Collection scarves are crafted from organic cotton for an opulent feel. These scarves boast a fringed trim and are created with the silk-screen process to ensure a unique, sophisticated look and a snug fit. Perfect for either day or night, they offer a chic, classy appearance.

Shop
Textile Printing Process - Behind The Making In Our Factory
Testimonials
"I discovered Payal and her gorgeous textiles 5 years ago. I've loved fabric all my life and her scarves blew me away. The fabric quality is unreal. I don't think I've ever handled such wonderful cottons, silks & wool. I remember naively asking if they were italian made? When Payal shared the story of her family heritage and deep connections to the Indian weaving and printing world, I realized that this is art. I feel honored to own her scarves and textiles. This kind of art is becoming rare in our mass produced world. If you are lucky enough to have the opportunity to see or buy any of these gorgeous objects/ art/ textiles of hers ... do it!"

Customer - Jill Irving

"Your father is a genius because he captures the spirit of India but translates it into a usable contemporary media that is marketable to sophisticated clients around the world."

-Late Vladimir Kagan ( Customer & a dear friend)

"Parekh Bugbee sets a high bar when it comes to traditional methods of weaving and screen printing textiles. Their products are exceptional, and rival the quality one finds in couture collections. The company maintains a sense of tradition using many older traditional patterns and methods, but has added contemporary design elements and new techniques for a more modern esthetic. Payal is a delight to work with, carefully answering questions and providing accurate detailed information about the products and my orders. Our clientele appreciate quality and fine finishing and Parak Bugbee is a special resource for quality textiles."

Lead Buyer at Seattle Art Museum - Renata Tatman 

"Parekh Bugbee scarves are my absolute favorite scarves EVER! The fabrics are to die for. The softest, coziest feeling to wear around my neck. And the colors! Don't even get me started on the gorgeous color schemes!! The patterns are neutral enough to compliment pretty much any blouse in my wardrobe. I recently wore one to a wedding with gold threaded accents and received so many compliments! "

Customer - DeDe Frerichs  (Owner of Nourichebroth) 

"I am ridiculously attached to my indigo organic cotton scarf that travels with me as an elegant accessory and saftey blanket. For atleast 4 years it has gone wherever I go. I wear it as a cozy wrap for the flights home. This piece has held up impressively and I respect the beauty and craftsmanship of Parekh Bugbee fine products."




Customer - Laura Kooi

"I have had the pleasure of buying multiple scarves from Parekh Bugbee over the years. You will not find better quality and more variety anywhere else. Each vibrant and beautiful design is either one-of-a-kind or part of a very small run so each product is special. Between all the vibrant colors and the softest of materials you will want to own more than one - pairing them with either your favorite outfits or for the changing seasons."

Customer - Curtis Dickie

I first met Payal and was introduced to the fantastic Parekh Bugbee at a craft fair in Seattle. From the beginning, I was impressed by the beauty and the quality of her pieces, as well as the story behind each one. There is nothing second rate and no corners are cut. 

I wear one of her pieces every day! Recently, I purchased some kitchen towels and napkins as gifts for friends, and have been told they are favorites! 

Payal runs the most phenomenal business. She is deeply invested in the welfare, wellbeing, and craft of her Mumbai-area based artisans. Her attention to detail is second to none and her kindness is overwhelming! 

Customer - Anna Lofstrand

Parekh Bugbee's one-of-a-kind scarves and linens are absolutely incredible. I buy their scarves and linens for their quality and craftsmanship and because I'm supporting a wonderful business made of the most kind-hearted people, including Payal (who is the very best!) They have such a range of beautiful patterns and materials — I only wish I could buy everything they have! I love using their textiles for my home, and I feel so stylish when I wear their scarves. They are the crème de la crème!

Customer - Colleen Mote (Owner of Mote Studio)
Eco- Friendly. Handmade. Smallbatch Production
Eco-friendly
Fashion for Parekh Bugbee is all about the ripple effect in the community that comes from creating each product.  From the maker to the buyer and everything in between we endeavor to keep the manufacturing process a deliberate and conscious one. Our entire factory – from its walls to its floors – was constructed from recycled and refurbished materials back in the early 1980s. We are committed to minimizing waste and environmental damage in the creation of our products - just as we strive to ensure our factory workers earn a decent living wage that enables them to provide food, shelter and education for their families.
Handmade
At Parekh Bugbee we are proud of our skilled artisans whose work maintains the traditional silk-screen techniques of printing on hot wax tables with each color laid individually on the fabric. We are committed to preserving this cultural heritage and doing everything we can to prolong this gorgeous craftsmanship. 
Smallbatch Production
By buying Parekh Bugbee, the artwork you'll be wearing was made by men and women from a rural Indian community that has remained loyal to our small scale production line for three generations. True skill and craftsmanship undergirds this slow and deliberate process of handmade clothing.  It is simply an art and craft that mass production cannot achieve. Knowing that our products are sweatshop-free and represent limited editions that help to support a vibrant community is all part of the enjoyment of wearing them.